Unfortunately it is pitch dark at 6:30
when I have our Tuesday Thursday scheduled girls run.
Until the clocks get changed, we are going to have to meet at another time of day.
Running at 6:30 in the dark while everyone is tired and on their way to work
does not sound safe to me.
When I can't run in the morning I TRY to do it before lunch.
Today's lunch
Mixed greens with Gorgonzola avocado, mushrooms, strawberries, walnuts, dressed with lite honey mustard, and a piece of shrimp pizza from last nights dinner (shrimp, mozzarella roasted garlic, caramelized onions, roasted red peppers, mushrooms, spinach).
Here is the pizza from last nights dinner-
three slices of pizza and almost half of the wine-
I really need to work on portion control-
I got in three miles today during my lunch break and decided to do some Fartleks (Sprinting small distances and jogging in between- for me it was telephone poles).
I felt really overdressed- I was freezing this morning (high 40s on the thermometer) so I threw on my capris and long sleeve tech shirt. By 12 it had warmed up and I was HOT.
It was a great little speed workout crammed into 26 minutes. It felt pretty good which is exciting considering I ran 13.1 on Sunday.
I am hoping to do speed workouts Tuesday, hills Thursday,
a slow run one day and a long run on the weekends.
If I say it out loud maybe I will hold myself to it.
I also got my Stridebox in so I am pumped to try everything and review it all.
Looks like a good box-
Now for the super fun news...
I won something! I won my first item in the blog world and I am SO excited about it! I won a 8x10 print of my choice from Love Life Prints - Click here to visit her shop!
I love to support Etsy shoppers so go take a look at her prints!
I won this awesome Hot Air Balloon print in Pink and Grey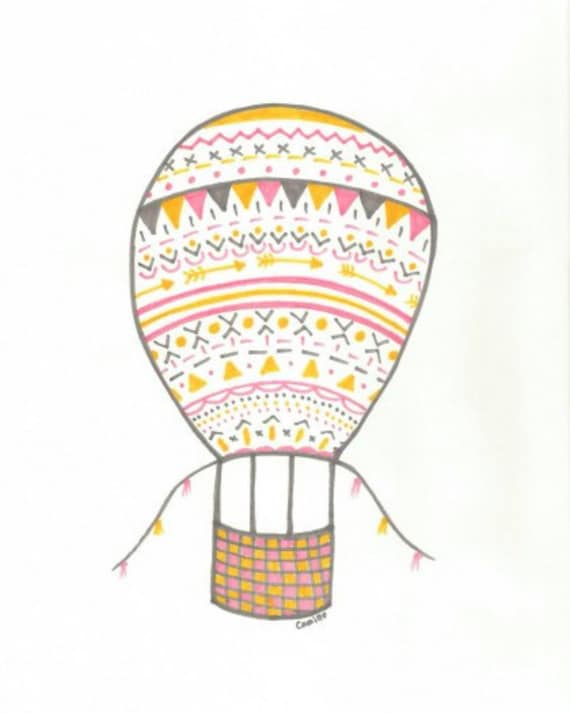 It is going to look so cute framed up and hung on my wall- would be adorable in a little girls room but I don't have one of those- Maybe in the bedroom or the bathroom?
I won this adorable print on Hanna's blog Bouffe e Bambini Runner, mother to three little ones, blogger turned paleo check out her blog for it all!
Can't wait to do a give away of my own soon!
Everyone enjoy your Tuesday and hop on over to Hanna's blog.