Happy hump day / scuba wednesday / whateverwednesdaymeanstoyou
Monday: 2 miles run, and my HIIT class canceled- I was actually excited about it- instead I helped my sister with wedding stuff
Tuesday: 3 mile run - 4 girls 2 dogs- it was actually fun- then after a long day at work I spent the night behind the bar-
Wednesday: Work, Scuba Afternoon,and riding the pony
I woke up this morning and it was brisk.
October brisk. Chilly even.
The mornings are cool and the afternoons warm up again to the high 70s.
October weather.... not August.
The weather makes me a little eager, almost excited to sign up for a few races.
While running 4 miles in 90 degree and extreme humidity on July 4th is OH SO MUCH FUN, I really prefer running in the cooler weather.
The cooler temperatures have me feeling super motivated, and I really should get out of my 3 - 4 miler rut. I am really proud that I kept running throughout the summer, but a weird crazy part of me sort of misses those long runs.

I took advantage of my delirious running state and I signed up for
* The Virtual Run Your Tail off 10k to support Running For Rescues
* The Hogsback Half Marathon to support Running for Rescues.
I am so excited to support one of my favorite charities (Running for Rescues), and I am even more excited for the amazing runner bling that comes with these races: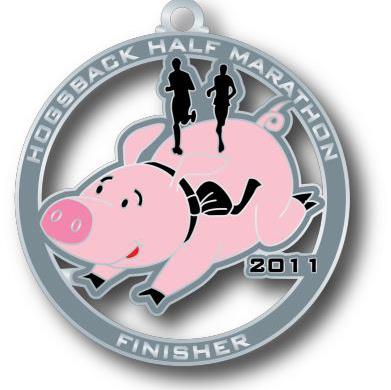 And the LONG SLEEVE PIGGY TECH SHIRT
The Run Your Tail Off virtual race is 15$- that 15$ gets you that awesome medal, and helps out shelter animals.
The Hogback Half Marathon is 30$- 30$ gets you an awesome medal, long sleeve tech tee, an after race meal, a beautiful course, and also supports Running For Rescues....Can you believe it?
Head on over and sign up!