Badlands National Park -
Ben Reifel Visitor Center
(Park Headquarters)
25216 Ben Reifel Road,
Interior, SD 57750
First Impressions:
Badlands National Park was the stop I was most looking forward to along the "KWmovesEast" journey. The Badlands are located 75 miles east of Rapid City, South Dakota and right off my route along I-90. We left Mount Rushmore via Keystone, route 16A to 16 to Interstate 90, the highway that would be our long haul across the country. The Badlands are beautiful in a very "unique" way. You won't find an abundance of animal or plant life for that matter. Or amazing hiking trails taking you to peaks, ledges, and waterfalls. But instead this dramatic landscape with beautiful neutral colors set against an angry gray sky with lightning striking in the not too far off distance.
Basics:
From I-90, we passed by many (many) many signs for "WALL DRUG" and got off the Wall exit, following route 240 to the Pinnacles Entrance of the park. We stopped at the ranger booth to pay the entrance fee of $15, and of course, a picture with the entrance sign. Our plan was to drive Route 240 through the park, stopping at the overlooks, before exiting via the Northeast Entrance to meet back up with Interstate 90. The fact that we could access this park right off I-90, while still heading East and meet up with I-90 again without any backtracking made this a perfect stop.
Unfortunately, by the time we reached the Badlands, the visitors center was closed for the day. Thankfully we still had a plan, to travel the Badlands Loop State Scenic Byway (SD 240). This 31-mile byway crossing through the park is a great way to see the park, with it's 15 scenic overlooks. We allotted about 2 hours to drive through the park, stop and take pictures.
The Badlands National Park is made up of peaks, gullies, buttes and wide prairies over 64,000 acres. Badlands didn't seem like a big hiking park, but instead one you drive through, seeing the sights and taking in the landscape. It is a popular park, with m
ore than 1 million people visit the park every year. The park was quiet when we were there due to the early evening hours, and impending storm rolling in.
"The Badlands are called "mako sica" or "land bad" by the local Lakota and "les mauvaises terres à traverser" or "bad lands to travel across" by the early French trappers, both descriptions invoke visions of a harsh and inhospitable landscape, where dangers lurk down every canyon. Despite the introduction of visitor services, overlooks, and a scenic road, the Badlands environment still remains a rugged, untamed, and remote country. While hiking, exploring, and traveling through the park, it is important to follow safety precautions and park regulations to enjoy a safe visit and prevent injuries". --NPS.org
Weather:
"The Badlands weather is variable and unpredictable with temperature extremes ranging from 116° F to -40° F. Summers are hot and dry with occasional violent thunderstorms. We got to see a crazy lightning storm in person, bolts striking across the horizon every few minutes as we drove through the park. Badlands is known for its temperature and weather extremes in all seasons. Weather conditions may change abruptly while exploring the park, and lightning, thunderstorms, strong winds, and the threat of tornadoes are real dangers.
The NPS suggest that before beginning your explorations, check the
local weather forecast
at the Ben Reifel Visitor Center and dress in layers.
Keep in mind that lightning can strike well in advance of a storm. While the scenery can be dramatic, seek shelter and avoid trees, high places, and dry washes that fill quickly with water. Primarily composed of clay, the badlands are very slippery when wet"--NPS.org.
You can see for miles as you stop at each overlook to see the mix of tans, browns, creams and yellows mixed with green grass and dark blue skies. One of our favorite stops was the Yellow Mounds overlook.
Pets:
Unfortunately, the Badlands are one of those not-so-pet-friendly national parks. Pets must be kept on a leash no more than six feet in length at all times. Pets are only permitted in developed areas, such as campgrounds and picnic areas, and other areas open to motor vehicles, such as gravel and paved roadways, roadway corridors, and parking lots. Pets are prohibited from hiking trails, public buildings (i.e. visitor centers), and backcountry areas, including the Badlands Wilderness Area, and areas with prairie dog colonies. Pet etiquette dictates always cleaning up animal waste and disposing of it in trash receptacles.
We let Olive and Abby out at some of the view points, and Abby and I had a Lion King moment. I thought this was the best idea I have ever had and is pure evidence of how quickly I started to lose my mind on this road trip.
Animals:
We did not see any critters throughout the park. However, bison, bighorn sheep, prairie dogs, and black-footed ferrets call the Badlands home. If you do see the bison, remember to admire then from a safe distance they can run faster than 30 mph. And I feel like with the recent Yellowstone "I put the baby bison in my car because he was cold" incident, a disclaimer is always needed.
Located near the Ben Reifel Visitor Center, the Cedar Pass Campground has 96 level sites with scenic views of the badlands formations. Forever Resorts manages the campground. For additional information, including questions about reservations, contact the Cedar Pass Lodge.
2016 Rates: Camping fees for up to two people are $22 per night per campsite, or $37 per night for campsites with electrical hook-ups. Each additional person is $4 per night. A dump station is available for a $1.00 per use fee. Cold running water, flush toilets, and covered picnic tables are available. * A limited section of the campground is open during the winter months.
Bison often wander through this primitive campground, located on the west side of the park's North Unit, near the Badlands Wilderness Area. Access is located off of the Sage Creek Rim Road, an unpaved road that may temporarily close after winter storms and spring rains. The road provides limited turnarounds for large recreational vehicles. Camping is free of charge. Pit toilets and covered picnic tables are available, but no water is available on-site. Sites at the Sage Creek Campground are available on a first-come, first-served basis and rarely fill to capacity. A portion of the Sage Creek Campground is designated for horse use.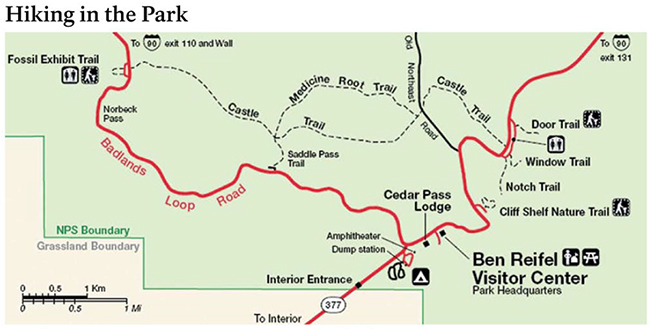 Door Trail- 0.75 miles/1.2 km (round trip)
Easy. An accessible ¼ mile boardwalk leads through a break in the Badlands Wall known as "the Door" and to a view of the Badlands. From there, the maintained trail ends. Travel beyond this point is at your own risk. Watch for drop-offs.
Window Trail- 0.25 miles/0.4 km (round trip)
Easy. This short trail leads to a natural window in the Badlands Wall with a view of an intricately eroded canyon. Please stay on the trailNotch Trail- 1.5 miles/2.4 km (round trip)Moderate to strenuous. After meandering through a canyon, this trail climbs a log ladder and follows a ledge to "the Notch" for a dramatic view of the White River Valley. Trail begins at the south end of the Door and Window parking area. Watch for drop-offs. Not recommended for anyone with a fear of heights. Treacherous during or after heavy rains.
Castle Trail- 10 miles/16 km (round trip)
Moderate. The longest trail in the park begins at the Door and Window parking area and travels five miles one way to the Fossil Exhibit Trail. Relatively level, the path passes along some badlands formations.
Cliff Shelf - 0.5 miles/0.8 km (round trip)
Moderate. This loop trail follows boardwalks and climbs stairs through a juniperforest perched along the Badlands Wall. A small pond occasionally exists in the area and draws wildlife, such as deer or bighorn sheep. Climbs approximately 200 feet in elevation. Please stay on the trail.
Saddle Pass - 0.25 miles/.40 km (round trip)
Strenuous. This short trail climbs up the Badlands Wall to a view over the White River Valley. The trail ends where it connects with the Castle and Medicine Root Loop Trails.


Medicine Root Loop-- 4 miles/6.4 km (round trip)
Moderate. This generally rolling trail connects with the Castle Trail near the Old Northeast Road and at the intersection of the Castle and Saddle Pass Trails. Trail users are provided the opportunity to explore the mixed grass prairie while enjoying views of the Badlands in the distance. Watch for cactus.
Fossil Exhibit Trail - 0.25 miles/0.4 km (round trip)
Easy. Fully accessible boardwalk trail features fossil replicas and exhibits of now extinct creatures that once roamed the area.